Timor-Leste and Bolloré consortium build international port in Tibar
Fri. 03 of June of 2016, 10:58h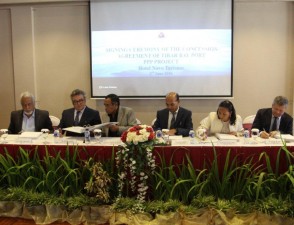 Timor-Leste ensured a large private investment, in the context of a public-private partnership, for the construction and operation of the new world-class port to be built in Tíbar bay, Municipality of Liquiça, 10 kilometres to the west of Dili.
This partnership was made official in Dili, on June 3rd, 2016, through the agreement between the Government of Timor-Leste and the Bolloré consortium. The initial investment for this construction has a total budget of US$278.3 million. Of this amount, US$148.85 million are provided by the private partner, the company Bolloré and US$129.45 million are the Government's contribution.
The construction of the port will start in 2017 and finish three years later. This work will create jobs for over 1.000 people, 500 of which in the construction phase and 350 in the first four years of the port's operation, adding further 150 jobs in the next phase, with priority given to the employment of Timorese citizens.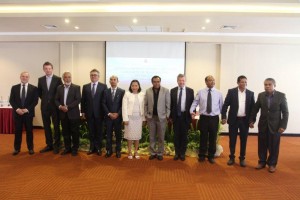 Until the end of the 30 years' concession, this world-class terminal will include two 630 metres piers and will receive each year over 870.000 containers. In addition, there will be buildings for the customs, administration and support to the operation of the piers. In the project, there is also space for future expansion, if and when the Government wants to increase the operation capacity of Tibar's port.
After the signature, the Minister of Public Works, Transport and Communications, Gastão de Sousa, underlined that this agreement was the result of five years of preparation and planning, led by the Ministry of Finance - Unit of Public-Private Partnerships, and had also the important collaboration of the Ministry of Public Works, Transport and Communications and the Ministry of Planning and Strategic Investment.
According to Minister Gastão de Sousa, Tibar Bay's port comes to rehabilitate and modernise Timor-Leste's infrastructure, following the Strategic Development Plan, the purpose of which is to raise the country to the position of medium-high income by 2030.
The National Procurement Commission assumed a central role in the implementation of the tendering process, following high standards of professionalism and integrity. This agreement will mobilise the international experience, the technical knowledge and the investment of the Bolloré consortium. The port will thus have world-class equipment and work as a catalyst [incentive] to Timorese exports.
"The port will contribute to the economic growth of Timor-Leste, playing an important role in external trade," noted the Minister of Public Works, Transport and Communications.