Distribution of motorcycles to technical assistants in Livestock and Veterinary Medicine
Tue. 04 of April of 2017, 19:56h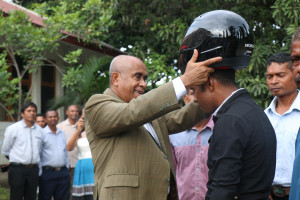 On April 3rd, the Minister of State, Coordinator of Economic Affairs and Minister of Agriculture and Fisheries, Estanislau Aleixo da Silva, accompanied by his Vice Minister, Marcos da Cruz, took part in a ceremony to hand motorcycles to officials of the General Directorate of Livestock and Veterinary Medicine (DGPV), in Comoro, Dili.
This is the first time that the Government, through the DGPV, has taken such an initiative, which aims to meet the everyday needs of technical assistants in Livestock and Veterinary Medicine  and supports their work implementing the programmes and activities of the General Directorate. The vaccination and treatment of animals programme, which seeks to reduce the cases of disease in the 12 municipalities and the Special Autonomous Region of Oe-cusse Ambeno, will be greatly assisted by the provision of motorcycles.
68 Honda Mega-Pro 150cc and 4 Honda Supra X125 motorcycles were delivered.
To ensure that the motorcycles will be used for the needs of the job, staff signed a declaration to be used in cases where it is necessary to take legal action regarding improper use.