On September 11th, 2023, the Government of Timor-Leste, through the Secretary of State for Social Communication (SECOMS), Expedito Dias Ximenes, and the UNICEF Representative in Timor-Leste, Bilal Aurang Zeb Durrani, signed an agreement establishing a continuous two-year work plan.
This plan has a component to raise awareness of healthy internet usage and another to train human resources and provide equipment for national community radio stations, intending to create and disseminate ethical and up-to-date information on children's rights.
Since 2004, UNICEF has worked closely with community radio stations and the government to use 18 community radio stations across the country to disseminate positive messages about birth registration, paternity, health and nutrition, sanitation and hygiene, early childhood education, prevention of violence against women, girls and children, as well as prevention and vaccination against COVID-19.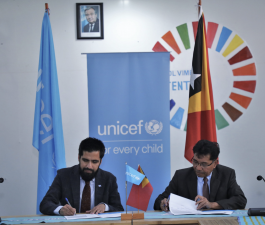 The Secretary of State expressed his appreciation "for the fact that this plan includes capacity building for the staff of community radio stations, given that they are the ones on the front line in disseminating information about children's rights at the community level, including to people living in the most remote areas".

Expedito Ximenes emphasised that "the revision of this plan places a new priority on raising awareness and developing guidelines for healthy internet usage and reducing the risks associated with children's internet consumption".

Bilal Aurang Zeb Durrani expressed "UNICEF's willingness to work together with SECOMS and other government bodies to reduce the risks of children using the internet, to make the internet a safe place to learn, socialise and express themselves", given that "with the spread of information and communication technologies, children all over the country are exploring various online platforms for learning purposes and to connect with their peers".

url: http://timor-leste.gov.tl?lang=en&p=34170