Helder Lopes, former Vice Minister of Finance, was sworn in today, September 13th, 2023, as the new Governor of the Central Bank of Timor-Leste (BCTL – acronym in Portuguese), the organisation responsible for regulating and supervising the national financial sector.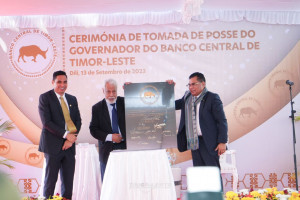 The new Governor of the BCTL replaces the outgoing Governor, Abraão de Vasconcelos, who led the Central Bank since its foundation in 2011, replacing the previous Banking Payments Authority (BPA).
In his speech during the ceremony, Prime Minister Kay Rala Xanana Gusmão expressed his "total confidence in the new Governor of the Central Bank" and expressed his belief that Helder Lopes "will take on the role of leading this institution with the responsibility of someone who has made a commitment to public service to the State and the people of Timor-Leste".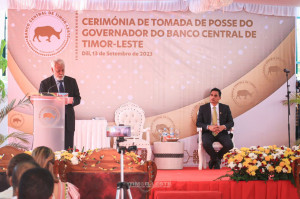 "For the relationship between the Government of Timor-Leste and the Central Bank," the Prime Minister assumed "two concrete aspirations that can be summarised in two words: independence and cooperation!" and that "the prestige of the Timorese State, the success of the nation and the future of the Timorese depend on this healthy relationship between these two institutions".
The Head of Government stated that "the financial sector occupies a crucial place in contributing to Timor-Leste's economic development" and that the Central Bank is responsible for "mobilising the country's savings resources effectively and efficiently, as well as managing foreign investment capital resources". He added that "the Central Bank plays a fundamental role in the execution of payments, which are inherent to economic dynamics and commercial development, drivers of economic growth and, consequently, the well-being of citizens".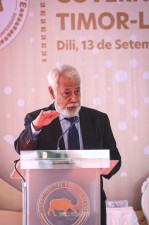 Kay Rala Xanana Gusmão ended his speech by expressing his belief "that the Central Bank can be an important partner for the Government, as a solid and independent institution, in defining national policies that will lead the country to progress, prosperity and the well-being of all Timorese".

The swearing-in ceremony took place at the BCTL premises in Dili. The Prime Minister, Government Members, National Parliament Members and the BCTL Board of Directors attended the ceremony.

url: http://timor-leste.gov.tl?lang=en&p=34068