The United Nations World Food Programme (WFP), in a joint project with the World Health Organization (WHO), in partnership with the Government of Timor-Leste, and with a financial contribution of $7.8 million from the Korean International Cooperation Agency (KOICA), is implementing a project to provide healthy and nutritious school meals to children in 400 schools in the municipalities of Bobonaro, Manufahi, and Baucau, with the aim of mitigating the risks of childhood diseases and malnutrition.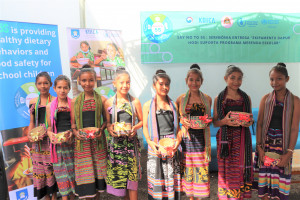 The project, to be implemented until 2025, has the motto "Say no to 5S (Starvation, Soil-Transmitted Helminthiasis, Skin disease, Smoking and Sugary/alcoholic drink)", and aims to provide healthy and nutritious school meals, fortified rice, and improve the conditions and equipment of school meals cooking environment and kitchen. Ten model kitchens will be built in, and equipment will be provided to 400 schools in the three municipalities.
On March 22, 2023, in a ceremony held in Maliana, in the municipality of Bobonaro, WFP, in the presence of KOICA representatives, delivered the first phase of kitchen equipment to 80 schools to improve the safety and health conditions of school meal preparation.
Cecilia Garzon, head of WFP in Timor-Leste, expressed "pride in supporting the Ministry of Education, Youth, and Sports in implementing the School Meal Programme and improving the health of school going children in Timor-Leste."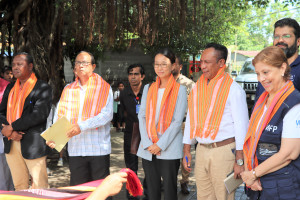 She also stated that "WFP, with KOICA's support, provided kitchen equipment for 400 schools across the country, contributing to better nutrition with fortified rice and improving health through Social Behavior Change Communication (SBCC)."

The WFP representative highlighted that "This Programme is a big leap in combatting the twin challenge of food insecurity and malnutrition amongst school aged children in Timor-Leste. We hope this partnership will continue supporting school-age children for good nutrition and food security to reach their full potential."

In addition to the infrastructural augmentation, through this programme, WFP will also support system strengthening to enhance supply chain management, improve monitoring and evaluation systems, introduce fortified rice in school meals and increase knowledge on healthy diets through social behaviour change communication for the school going children.

url: http://timor-leste.gov.tl?lang=en&p=32522