Ministry of Defence and Security receives two patrol vessels
Mon. 31 of May of 2010, 00:06h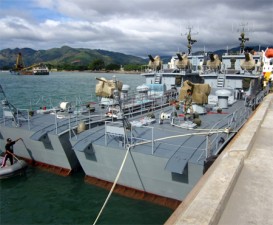 As part as the Timor-Leste Strategic Development Plan, the IV Constitutional Government acquired two Shanghai III Class patrol vessels from the People's Republic of China. The Secretary of State of Defence explained some issues in relation to this purchase, in an interview to the radio Program "Goodbye Conflict, Welcome Development".
According to Júlio Tomás Pinto, these vessels have the mission of patrolling Timor-Leste's territorial waters. The supervision of these waters is a necessary and urgent response to the combat of illegal activities that has been verified in the coastal area. The Timor-Leste exclusive economic zone has been infringed by illicit activities and, with these water patrols, it is intended to combat directly the illegal fishing, human trafficking and contraband, among other activities that have been registered.
The two vessels' mission is part of the National Defence policy that the Government has been developing in the last few years. The Hera Naval Base will shelter these vessels which will be at the service of the Maritime Police and the National Navy.
The deal cost 28 million dollars and the payment was divided in five parts. The costs were contemplated in the State budgets from 2008 until 2010.
These vessels have the capacity to patrol the country's costal area, with an autonomy of 700 miles and one consecutive week in operations at high sea, without the need of land support during this period, have advanced radar technology and carry defence equipment.
The Secretary of State of Defence, when inquired about the option of China, answered that the contract was sealed with China because they presented the best conditions in terms of vessels construction and maintenance training for youth and military staff, so the future reparations can be done in Timor-Leste.
The crew continues to train within our national territory, the Portuguese Navy cooperates with the National Navy in the preparation and continuous training of the F-FDTL Navy staff.
On the future of the Navy fleet, the Secretary of State stated "the future is in the sea. The future passes through the acquisition of more boats to increase the fleet, ensuring the patrol of the whole of the costal area and efficient defence of our maritime wealth".
The official inaugural ceremony takes place on the 11th of June which will count with the participation of F-FDTL high-ranking officers, the President of the Republic, the Prime Minister and the members of the Government.
The inaugural commemorations will continue on the 12th of June with the realization of a Seminar about National Defence. Countries like Singapore, Australia, Portugal and Indonesia will be present. It will be a unique opportunity to exchange experiences and knowledge between countries that face the same problems as Timor-Leste.