Timor-Leste and Japan discuss possibility of sending Timorese workers to Japan
Wed. 03 of April of 2019, 17:09h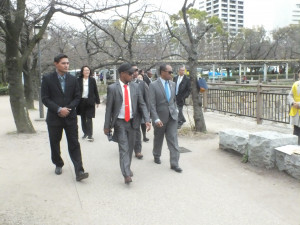 The Secretary of State for Vocational Training and Employment (SEFOPE), Julião da Silva, held a press conference on April 3 at the Secretariat of State to present the results of the official visit to Japan in March.
Julião da Silva explained that the visit to Japan aimed discussing the possibility of work opportunities to timorese in this country and to increase their knowledge and skills.
The Government of Japan has presented 14 possible areas of work and SEFOPE will study and identify the areas in which Timor-Leste can participate.
The young people who will participate in this program must attend training and must enroll in the training centers accredited by INDMO (National Institute for the Development of Manpower) under the auspices of SEFOPE to increase their knowledge and be able to compete with other nations who participate in this program.
The Secretary of State also said that a Memorandum of Understanding will soon be signed with the Government of Japan, so the Government of Timor-Leste through SEFOPE will conduct a comparative study with Indonesia, which has been participating in this program since 1993, in order to guarantee skilled labor.