Government and European Union meet to discuss cooperation partnership in the country
Tue. 03 of April of 2018, 12:10h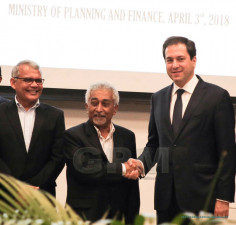 The Prime Minister Marí Alkatiri, also in his capacity as National Authorizing Officer of the European Development Fund, and accompanied by the European Union Ambassador Alexandre Leitão, inaugurated the first meeting of the Steering Committee of the cooperation partnership between the European Union (EU) and Timor-Leste, held on April 3rd, 2018, in the Ministry of Finance auditorium, in Dili.
The Indicative National Programme (INP) of the Steering Committee is composed by the Office of the European Development Fund's National Authorizing Officer, currently under direct supervision of the Prime Minister, by other ministerial bodies, the Delegation of the European Union and by representatives of the European Cooperation projects in Timor-Leste.
This meeting takes place in Timor-Leste for the first time, following Timor-Leste's accession to the Cotonou Agreement in 2007, which established a new policy framework to regulate the cooperation between the EU and the ACP (Africa, Caribbean and Pacific) countries and seeks to contribute to poverty reduction and progressive integration of the ACP countries into the world economy, by relying on three fundamental pillars - development cooperation; economic and trade cooperation, and political scope.
The Steering Committee aims to achieve the best possible coordination in the implementation of the programs financed by the European Union through the sharing of information between all the parties involved. To that end, throughout the day, the objectives and the current situation of each project have been carefully reviewed, as well as the questions that are posed for its future execution.
The cooperation between the European Union and the Government of Timor-Leste covers two main programs, the "Partnership to Improve Public Services by Strengthening Public Finance Management and Supervision" (PFMO) and the "Sustainable Partnership in the Agroforestry Sector" (SPAF), financed at close to 117 million US dollars.
This partnership aims to support sustainable development by strengthening the efficiency, integrity, transparency, accountability and guidance for citizens regarding public services, in line with the Strategic Development Plan 2011-2030, by enhancing the capacity of state actors (such as the National Parliament, the Court of Appeal / Chamber of Accounts or the Forensic Police and Criminal Investigation) and non-state actors.