PCA Announces Major Breakthrough in Maritime Boundary Proceedings
Sat. 02 of September of 2017, 14:28h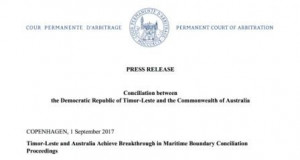 The Permanent Court of Arbitration has issued a Press Release on the 1 September 2017 following meetings held in Copenhagen, Denmark.
Delegations from Timor-Leste and Australia held a series of confidential meetings with the Conciliation Commission as part of a structured dialogue being conducted pursuant to the United Nations Convention on the Law of the Sea (UNCLOS).
Read the release here.